Caring for your eyes should be a priority. Regular eye care, including a vision exam, keeps your sight at its best and your eyes healthy. At Palmer Vision Clinic, Dr. Bancroft and his experienced team provide the eye care service that you and your family need. We provide comprehensive annual eye exams, but also offer cataracts, glaucoma, and macular degeneration testing. If you need glasses or sunglasses, you can find them at our location in Palmer and Anchorage when you come in for an appointment.
Annual Vision Exams
An annual vision exam is an opportunity for the doctor to assess the health of your eyes and vision. It's important that everyone in your family, especially children, to have their regular exams. As children are still developing, any problem areas can be identified early on, before they interfere with school, sports, or other activities. During the eye exam, our doctor will also use a series of standard tests to see how well your eyes are functioning.
Common Eye Tests
There are several eye tests that we commonly use. The first is a visual acuity test that determines how well someone can see both near and far distances. A refraction test indicates if someone is myopic (nearsighted), hyperopic (farsighted), or an astigmatism. Dr. Bancroft also tests your depth perception and peripheral vision. As part of your comprehensive eye exam, the doctor tests your color vision and perception. Your eye focusing ability is also tested. It's important to know whether or not you have any of these issues to better understand what visual limitations you may have. Understanding your limitations allows you to work around them, instead of letting them hold you back.
Contact Lens Exams
If you need glasses, but don't want to wear them, consider trying contact lenses. There are many different types of lenses available today to address your needs. These include extended wear, disposables, rigid gas-permeable, and soft daily wear lenses. The doctor will be able to discuss your options. During the contact lens exams, precise measurements are taken to make sure you leave with the size and strength lens that's right for you.
Caring for Your Eyes
At Edward Bancroft, OD and Palmer Vision Clinic, we are dedicated to preserving and improving the eyesight of every patient that walks through our doors. Visit our Palmer and Anchorage locations for the quality eye care that you and your family need. We are all about providing patients with individual attention and personalized eye care to improve their health and well-being.
Eye Care Services at Palmer Vision Clinic
At Palmer Vision Clinic in Palmer Anchorage, we offer a full selection of eye care services. Of course, we offer standard eye exams. Our eye exams can identify any vision problems you may be having and any eye health issues you may have. We can also perform contact lens exams to help you find the contacts that are the most comfortable and give you the best vision. We can also treat many common eye conditions, such as conjunctivitis (more commonly known as pink eye), eye allergies, and dry eyes. Read on to learn more about the eye care services that you can receive from our expert eye doctor.
Eye Exam
Eye exams are just as important as yearly physicals. In fact, many optometrists recommend that you get an eye exam yearly. Our comprehensive eye exams can check for many different problematic diseases and conditions. First, you will have a consultation with our eye doctor in which you can express any issues you may be having with your eyes. Next, we will use a visual stimulator to identify any eye function issues you may have. We will also conduct pressure testing, which is how we check for glaucoma. Of course, we will also examine the exterior and interior of your eye so that we can identify any other problems.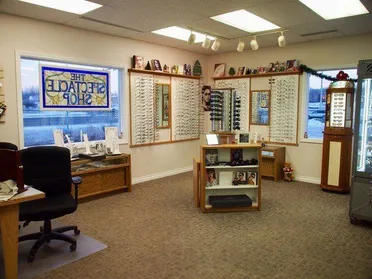 Contact Lens Exams
If you're thinking about getting contact lenses, we can help you get the right ones. We offer examinations specifically for patients who are looking to get contact lenses. As part of this exam, we will test your vision. This will help our eye doctor come up with the right prescription for your contact lenses. We can also help you find the model of contact lenses that are the most comfortable for your eyes.
Effective Treatment For Many Conditions
Many people are unaware that optometrists can treat eye conditions as well as vision conditions. We often treat minor eye conditions like allergies, dry eyes, and conjunctivitis. We can prescribe you medicated eye drops and dispense these drops on-site.
Make an Appointment At Palmer Vision Clinic Today
At Palmer Vision Clinic in Palmer Anchorage, eye care patients can get all of their needs taken care of by a highly experienced optometrist. Whether you need an eye checkup, a contact lens exam, or treatment for an eye condition, we've got you covered. Make an appointment with our optometrist today to get the treatment that you need.