Eye Exams at Edward Bancroft OD and Palmer Vision Clinic

The ability to see is a wonderful gift, but it doesn't always indicate that your eyes are healthy and safe from problems. If you want to protect your eyes, you need to make sure that any hidden or not-so-hidden issues get diagnosed and treated promptly. You can achieve that goal by entrusting your eyes to Edward Bancroft OD and Palmer Vision Clinic, your source for vision and eye exam services in Anchorage, AK and Palmer.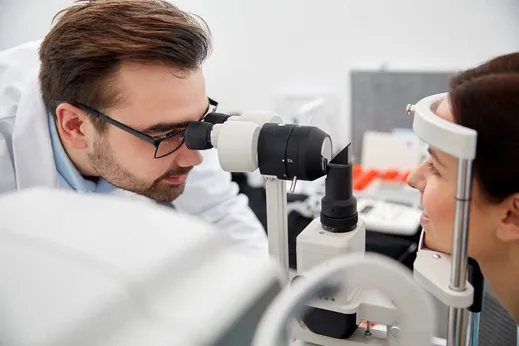 The Importance of a Comprehensive Eye and Vision Exam
Many serious eye diseases and disorders can lurk for years, doing irreparable damage while not affecting your vision to a noticeable degree. That's why you need more than the occasional, superficial vision exam at your school or the DMV. Only a routine of comprehensive eye exams can uncover those underlying health problems in time for our optometrist to step in with effective treatment.
We recommend periodic eye and vision exams throughout all stages of life. Three major pediatric eye exams occur by the time your kids are ready to enroll in school. These tests help to ensure that any serious eye function or vision issues can be addressed while your kids are still developing their visual skills so that they can perform well in school. Most other individuals need eye exams every one to two years, depending on our optometrist's recommendation. Seniors should always schedule annual eye exams.
Our Anchorage Optometrist Can Screen for a Number of Problems
You can rest assured that our Palmer and Anchorage optometrist, Dr. Bancroft, maintains the latest skills, techniques, and technologies for detecting a wide range of eye and vision ailments. We can screen for issues such as:
Common refractive errors, such as nearsightedness and farsightedness
Glaucoma
Cataracts
Macular degeneration
Diabetic retinal diseases
Eye tumors or other abnormalities
Eye function errors, such as strabismus and amblyopia, or poor eye teaming or tracking
Visual processing problems
What to Expect During the Eye Exam
We will conduct your eye exam in several phases. A personal consultation allows you to express any concerns you may have. Visual simulators help us identify eye function problems. Pressure testing can identify potential glaucoma, while examination of the interior and exterior of the eye can reveal the presence of other eye diseases. You may need to have your pupils dilated for the exam.
Call Our Anchorage or Palmer Office Today
Don't let sight-stealing problems sneak up on you and your loved ones. Call our Anchorage ((907) 562-2020) or Palmer ((907) 745-4373) office to schedule your eye and vision exam.