Eye Care for Diabetics
If you have diabetes, it is necessary to follow certain protocols to maintain optimal health. The eyes are part of the body that can be negatively affected by diabetes. A damaging condition known as diabetic retinopathy can develop in people who have diabetes. Special eye exams, including a dilated eye exam, are used to detect if you have diabetic retinopathy.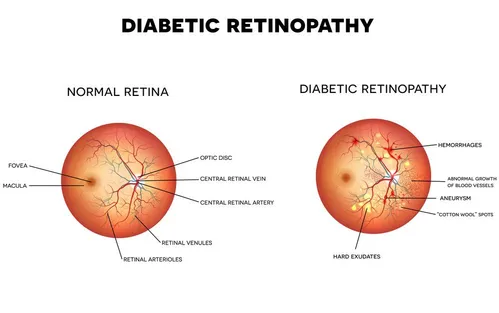 Our team at Edward Bancroft, OD and Palmer Vision Clinic is experienced in helping diabetics with their eye care needs. Serving Palmer and Anchorage, AK, we offer a variety of eye care services and are here to help you keep your eyes healthy. Our optometrist uses state-of-the-art equipment and exams to determine the best course of eye care tailored specifically to your needs.
What Is Diabetic Retinopathy?
This condition happens when an excess of blood sugar, or glucose, blocks the fine blood vessels of the retina. The eye will try to grow new blood vessels, but they don't work properly and might leak blood. This is damaging to the retina and affects vision. People who develop this condition often don't notice at first, because there aren't many symptoms. Proper care should be taken to decrease the chances of this happening.
Diabetic Eye Exams
Diabetes does increase the risk of diabetic retinopathy, as wells cataracts and glaucoma. This is why it is especially important to get regular eye exams if you have diabetes. Our eye doctor will check for any eye problems when doing a diabetic eye exam. By dilating the pupils, our optometrist can examine the back of the eye to detect any issues. There are several other tests, including a fluorescein angiography and optical coherence tomography, that can determine if the blood vessels in your eyes are leaking.
This condition can be difficult to detect early, because there are no symptoms. However, if diabetic retinopathy is left unchecked, it can lead to severe complications, including blindness. It is vital to manage your diabetes and blood sugar levels to lower your risk for this condition. Regular eye exams are are also vital in detecting this condition as early as possible. Our eye doctor can provide you with ways to slow the progression of diabetic retinopathy and preserve your vision.
Visit Our Optometrist in Anchorage, AK for a Diabetic Eye Exam
If you have diabetes, it is vital to take care of your eyes. At Edward Bancroft, OD and Palmer Vision Clinic, serving Palmer and Anchorage, AK, we can help. we provide eye exams, diabetic retinopathy management, and other eye care services. Call us today to schedule an appointment.